Vicinity's Bayside Shopping Center in southeast Melbourne welcomed a new COVID-19 vaccination center, the first of its kind in Victoria.
With Bayside's strategic location in the heart of Frankston City in southeast Melbourne, the Frankston Community Vaccination Hub benefits from convenient transport links, numerous parking lots and the central location of the center, making it easy to reach over 500,000 residents.
The Frankston Community Vaccination Center is expected to provide up to 1,200 vaccinations per day
The center, managed by Peninsula Health, is expected to deliver up to 1,200 vaccinations per day, including both Pfizer and AstraZeneca vaccines. Bookings can be made through the Ministry of Health's website and hotline. In addition, there are a small number of walk-in appointments for people aged 60 and over for the AstraZeneca vaccine.
Helen Cooper, Executive Director of Operations at Peninsula Health said: "We are delighted to have opened the Frankston Community Vaccination Hub at the Bayside Center, where we can offer this important service in one central, easily accessible location for our community. To find out if you are eligible to receive the COVID-19 vaccination and to make a booking, please visit the Ministry of Health website. "
The rapid installation of the new Bayside Vaccination Clinic was made possible by using over 2,900 m2 of temporarily available space in advance of the upcoming renovation works to add new state-of-the-art office space, new outdoor catering and a remixing of the center as part of the long-term mixed-use strategy of Vicinity.
The establishment of the Bayside Vaccination Clinic follows Vicinity's successful partnership with state governments across Australia to support the establishment of multiple testing centers in centers.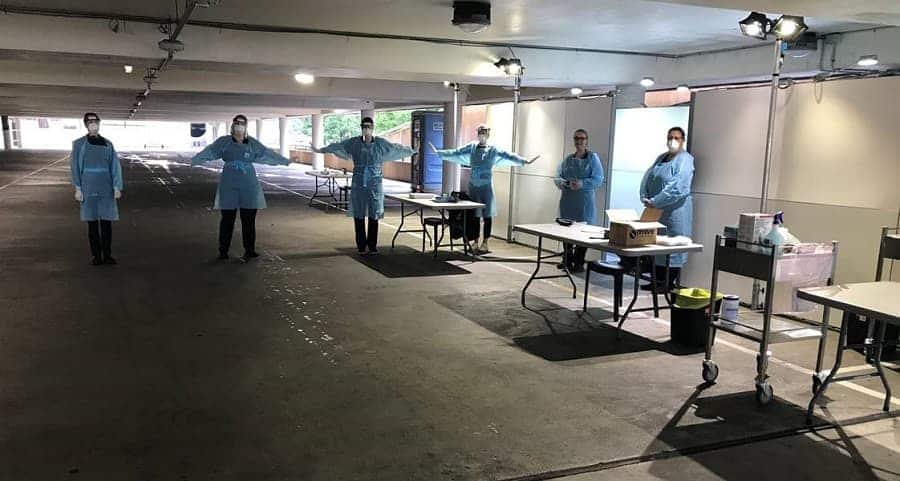 The parking lots of the Vicinity Center were used as COVID test locations
The Shopping Center Council of Australia (SCCA) previously offered to support the launch of the vaccine, which was first launched to senior physicians and state governments earlier this year. 71% of the population live within a 5 km radius of an SCCA shopping center, 88% within a 20 km radius. The centers are aHealth care can be supplemented by the provision of supply facilities, storage facilities and relevant infrastructure, such as