Breadcrumb Trail links
Travel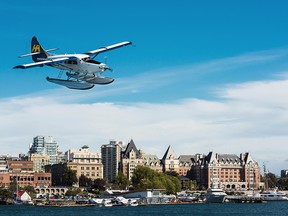 Harbor Air Seaplane landing in Victoria. Photo by www.mikecranephotography.com
Reviews and recommendations are unbiased and products are independently selected. Postmedia may earn an affiliate commission from purchases made through links on this page.
Article content
It's easy to fall in love with Victoria (or rediscover why you fell so hard in the first place). Though our province's capital has a sophisticated vibe to it, with its historic buildings and elegant gardens, the city has an easygoing feel—as breezy as the ocean air that whispers through the Inner Harbour.
Advertisement 2
This advertisement has not been loaded yet, but your article continues below.
Article content
Victoria, set against the backdrop of dramatic West Coast landscapes, is an old soul with a youthful heartbeat (just enough buzz to keep you energized, but not run you off your feet). Adventure awaits, whether it's sampling regional fare, taking a ghost tour, or soothing your soul on a forest bathing excursion.
Choose your own adventure: wander the historic neighborhoods; explore patios, galleries, and gardens or venture to the city's wide open spaces. And there's more room to enjoy the restaurants, attractions, and activities that contribute to the city's winning trifecta of culture, cuisine, and historic character.
By clicking on the sign up button you consent to receive the above newsletter from Postmedia Network Inc. You may unsubscribe any time by clicking on the unsubscribe link at the bottom of our emails or any newsletter. Postmedia Network Inc | 365 Bloor Street East, Toronto, Ontario, M4W 3L4 | 416-383-2300
Thanks for signing up!
Article content
Whether you're looking for a cosmopolitan escape or a restorative getaway, here are a few ideas for your next visit to this beloved oceanside city.
Advertisement 3
This advertisement has not been loaded yet, but your article continues below.
Article content
GO WHALE WATCHING
Victoria's coastal waters are home to an abundance of marine life, including three resident orca pods. Book a whale-watching tour for a chance to see orcas, humpbacks, minkes, and gray whales. You may also spot sea lions, seals, porpoises, and marine birds along the way.
Victoria-based operators have safety measures in place and many are offering promotions, so be sure to check their websites for details.
EXPLORE THE WATERWAYS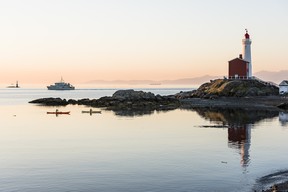 People kayaking near Fisgard Lighthouse National Historic Site. Photo by Reuben Krabbe / Destination BC
A visit to Vancouver Island isn't complete until you've dipped your toes in the cool Pacific Ocean. Go beyond the beach to explore the Greater Victoria shoreline with a kayak or stand-up paddleboard adventure. The many waterways are waiting to be discovered. Take a guided tour to learn more about the coastal ecosystem and discover the best paddling spots. Head out on the Inner Harbor with Kelp Reef Adventures or explore the islands and inlets farther afield with Blue Dog Kayaking, departing from Sidney and the Mill Bay Marina.
Advertisement 4
This advertisement has not been loaded yet, but your article continues below.
Article content
or a less vigorous aquatic adventure, book a tour on the Victoria Harbor Ferry and enjoy a relaxing boat ride through Victoria's harbours, with views of historic architecture and sea life. Discover more ways to explore the ocean in Victoria.
STAY IN THE HEART OF THE CITY
This is the perfect time to find great deals on hotels in prime locations. Stay in Downtown Victoria, a central location to walk to the city's intriguing neighborhoods, and visit nearby eateries and green spaces. Hotels have additional safety measures in place, including enhanced cleaning, physical distancing, and take-out menus.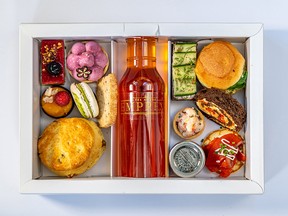 Tea to Go at the Fairmont Empress Hotel. Photo by Destination Greater Victoria
A staple in the Inner Harbour, the Fairmont Empress Hotel, makes for a scenic and luxurious waterfront stay. Try their Tea to Go—a new, picnic-inspired take on the famous high tea experience. The spectacular Inn at Laurel Point, with its picturesque views of the harbour, is offering special bed and breakfast staycation packages for BC residents (check their website for details). Meanwhile, you can pamper yourself at the Parkside Hotel and Spa and enjoy a catered summer BBQ delivered to your room
Advertisement 5
This advertisement has not been loaded yet, but your article continues below.
Article content
TOUR THE TOWN
Walk, cycle, or eat your way through Victoria to take in the city through a new lens. Take your bubble on a themed foodie tour with Off the Eaten Track to sample fare from chocolatiers, breweries, and eateries. They also offer the Brown Bagged Food Tour, a curated selection of culinary delights delivered to your door.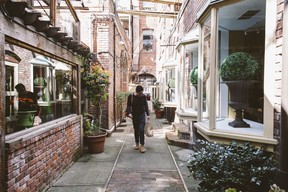 Strolling and shopping in the hidden alleys of Victoria. Photo by Jordan Dyck / Destination BC
Explore Victoria's vibrant neighborhoods by hopping on a bike tour (with fun foodie stops along the way). Take a late-night Ghostly Walk through Trounce Alley or Old Towne to hear spine-tingling tales of murder and mystery.
ENJOY A SUNNY PATIO
Victoria is known for its West Coast-inspired food and drink culture, and a summer patio session is the best way to soak it all in. A section of Government Street in Downtown Victoria has become a pedestrian-only zone with many restaurants extending their patio space, including the historic Irish Times Pub.
Advertisement 6
This advertisement has not been loaded yet, but your article continues below.
Article content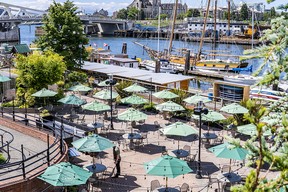 The patio at the Canoe Brewpub. Photo by @canoebrewpub
Meanwhile, Whistle Buoy Brewing Company in downtown's Market Square is a must-visit if you love craft beer (hot tip: Victoria has its own BC Ale Trail). Cap off your visit to Chinatown with a cocktail, farm-fresh cuisine, and views of the Inner Harbor from the spectacular patio at Canoe Brewpub, Restaurant and Marina.
There are plenty more great Victoria patios to enjoy—take your pick!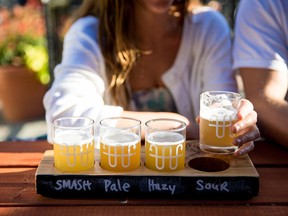 Sampling a Whistle Buoy Beer Flight. Photo by Destination Greater Victoria
SEEK WIDE OPEN SPACES
There are many wide open spaces (and fewer faces) in Greater Victoria's parks and forests—and just as many ways to experience them.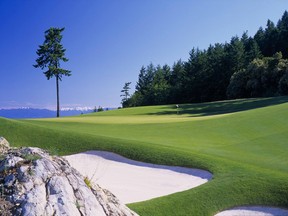 Head to Bear Mountain Golf Course for wide open spaces. Photo by Destination Tourism Victoria / City of Langford
Rent bikes and cycle the Galloping Goose Trail, a 60-kilometer trail that connects Victoria to the Sooke Potholes. Enjoy the open green with a round of golf at one of seven golf courses sprinkled throughout Greater Victoria. If you're seeking an introspective experience, sign up for guided forest bathing in the temperate rainforest outside the city.
Advertisement 7
This advertisement has not been loaded yet, but your article continues below.
Article content
DISCOVER GARDENS GALORE
Steal a quiet moment of reflection in one of the city's serene and colorful gardens—the mild coastal climate makes for a gardening paradise. Coined "the garden that love built," the Abkhazi Garden is tucked away in a heritage home and also offers an intimate and tranquil tea service with patio views overlooking Greater Victoria.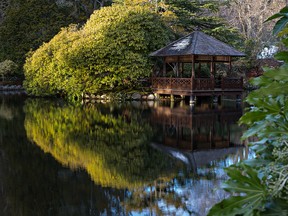 The Japanese Gardens at Hatley Park National Historic Site. Photo by Daniel Mosquin / Destination BC
Government House (the official residence of the Lieutenant Governor) is also home to formal gardens and a rare Garry Oak ecosystem. Royal Roads University, located on the Hatley Park National Historic Site, boasts 15 kilometers of walking trails fringed by old-growth forest and fragrant rose, Japanese, and Italian formal gardens. Plan a day trip to Saanich, where you can visit The Butchart Gardens and enjoy the nine acres of gardens at the Gardens at HCP (Horticulture Center of the Pacific).
Advertisement 8
This advertisement has not been loaded yet, but your article continues below.
Article content
EXPERIENCE THE CULTURE
From its deeply-rooted Indigenous influences to its historic architecture and diverse neighborhoods, Victoria is thriving with cultural diversity. Explore extensive collections documenting the province's human and natural history at the Royal BC Museum, including the spectacular First People's Gallery, the ever-popular Natural History Gallery, and the Cultural Precinct. What's more, they are offering 50% off admission this summer. Book a timed ticket to secure your entry.
Continue your cultural journey at the Art Gallery of Greater Victoria, which holds one of Canada's most important Asian art collections, including some exquisite ivory and amber carvings. Visit their website to plan your visit.
GETTING THERE
No matter how you choose to travel to Victoria, getting here is part of the adventure. From Vancouver, pair your getaway with spectacular aerial views and fly into Victoria's Inner Harbor with Harbor Air (they have a variety of safety measures in place). If you're driving from the mainland, reserve a spot on the BC Ferries route from Tsawwassen to Swartz Bay. Don't forget to bring your face mask as they are mandatory on board.
For more information on planning your stay in Victoria, visit tourismvictoria.com/reconnect.
Originally published on: HelloBC.com by Destination BC
Share this article on your social network
Advertisement 1
This advertisement has not been loaded yet, but your article continues below.
Comments
Postmedia is committed to maintaining a lively but civil forum for discussion and encouraging all readers to share their views on our articles. Comments may take up to an hour for moderation before appearing on the site. We ask you to keep your comments relevant and respectful. We have enabled email notifications—you will now receive an email if you receive a reply to your comment, there is an update to a comment thread you follow or if a user you follow comments. Visit our Community Guidelines for more information and details on how to adjust your email settings.