The year is coming to an end, and so has Tom Brady and supermodel Gisele Bundchen's 13-year-long marriage. There is no coming back now since the Super Bowl champ is living alone. But the situation was stressful when the former NFL power couple were keeping their fans in confusion. From their 'epic fights' to them finally announcing their divorce, a lot happened in between. So, let's embark on a journey together and get up to date about their personal life drama.
ADVERTISEMENT
Article continues below this ad
Anyone who had been following TB12 and the former Victoria's Secret Angel knows that there have been indications of their separation since 2020. Even though their divorce was quick, they only parted ways after giving the matter serious thought. So, where specifically did things go wrong?
Life went downhill for Tom Brady after an interview he gave in 2020
ADVERTISEMENT
Article continues below this ad
Once Tampa Tom appeared on a radio interview show, The Howard Stern Show. There, the star quarterback gave details about the difficult time he had been experiencing in his marriage. The Brazilian model felt her husband was not giving enough time to his family. Therefore, to improve the situation, the elite QB spent some time with his family and missed the Patriots' OTAs in 2019.
DIVE DEEPER
This interview gave the fans the much-required sneak peek into their marriage. Fans realized that Brady and Bundchen were just like any other couple. Then the QB announced his retirement from football in February 2021 but came back to the sport only after forty days. That was just the silence before the storm.
Everything was normal until August 11, 2022. The Tampa Bay Buccaneers QB took an 11-day hiatus from the training camp and went on a vacation with his family. But theories came to the surface that the pair went to the Bahamas to visit the headquarters of FTX. When Brady returned from his leaves, he told the reporters, "I'm 45 years old, man. There's a lot of shit going on."
Now starts the 'epic fight'
On September 1, 2020, Page Six reported that the couple was in the middle of an 'epic fight.' The internet went berzerk. That was probably the biggest news in the world of sports. So, Gisele left her husband to take a trip to Costa Rica.
Many believed the reason behind their fight was the QB's decision to unretire from football.
Then on September 7, 2020, People had a new update. "There's a lot of tension. She was so happy when he announced his retirement, and she wasn't thrilled at all when he went back on that."
ADVERTISEMENT
Article continues below this ad
Gisele did not attend her ex-husband's first game, but she tweeted her support. The former runway beauty gave an interview to Elle. She opened up about the part she played in her part in nurturing her family and has always been happy for Tom Brady's success. She also added, "I feel very fulfilled in that way, as a mother, and as a wife. And now it's going to be my turn." In October, news spread that Gisele had hired lawyers.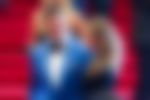 NEW YORK, NY – MAY 06: Tom Brady (L) and Gisele Bundchen attend the Costume Institute Gala for the "PUNK: Chaos to Couture" exhibition at the Metropolitan Museum of Art on May 6, 2013 in New York City. (Photo by Michael Stewart/Getty Images)
The nail hit the coffin when Brady and Bundchen finally announced their divorce on Instagram. They settled and filed for divorce in Florida. Through a mediator, they could also divide their vast property portfolio and custody. Since then, fans have seen the supermodel go on a vacation with her jiujitsu instructor and sexy models trying to score with 15x Pro Bowler.
ADVERTISEMENT
Article continues below this ad
Watch this story: Tom Brady Went to The Same High School As This Controversial MLB Hall of Famer Who Was Also A 14x All-Star