Planned burns in coastal communities are becoming increasingly difficult with a growing population. Credit:Eddie Jim
"For us, it creates increased complexity in delivering planned burning when there is private property adjacent to the forested areas," Mr Hardman said.
"We have to put more resources into ensuring those private interests are protected. But the people of Victoria have chosen to live in these places."
Surf Coast Shire mayor Libby Stapleton said the population appeared to be increasing in coastal towns across the municipality with many people making holiday homes their permanent residence.
Other areas such as Torquay and inland communities have also become more populous in recent years.
"The Surf Coast has been earmarked as a place of growth. We know growth is coming," Cr Stapleton said. "In terms of how rapidly that happens is probably a bit unknown."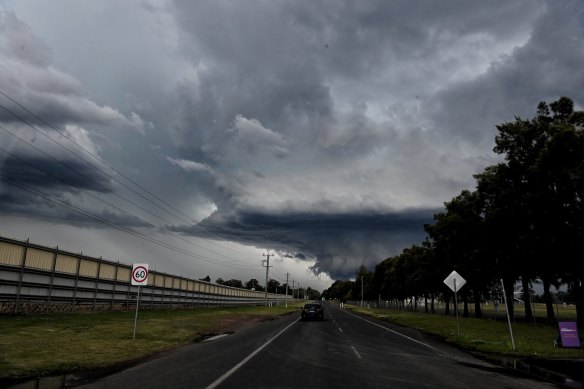 La Nina weather conditions have brought wet weather to Victoria and eased the risk of a major bushfire like the Black Summer fires. Credit:Nick Moir
Monash University bushfire resilience expert Caroline Spencer said houses in some fire-prone areas were "selling like hotcakes", but newcomers needed to understand the risks they faced.
She said some of those people may not be aware of the work involved in planning for fires and recovering from their aftermath.
"Recovery takes an enormous amount of time and people aren't prepared for that," Dr Spencer said.
Dr Spencer, who lives in the extreme bushfire zone of Guys Hill on Melbourne's outskirts, has helped create an online risk mitigation tool for her community that provides information about the most effective strategies for protection from bushfires, including fuel and vegetation management and weed control.
A La Nina weather pattern creating wet conditions has resulted in a mild outlook for this fire season.
But Mr Hardman said there would still be about 1000 fires with authorities watching for grass and crop fires in early summer.
"We can confidently think that we're not going to have any large-scale bushfires through to post-Christmas, and then we'll re-evaluate and look at what the weather is doing," he said.
An expected increase in Victorians holidaying locally also remains a concern for authorities this summer, as people venture further into remote locations.
Mr Hardman said a short burst of hot, dry and windy weather may still result in extremely dangerous fires this season.
"We could have a short duration – two or three day bushfire – that could have really devastating consequences and cost the lives of Victorians.
"Even though it's a positive outlook for bushfires it doesn't take much for that to change in our state."
Fascinating answers to perplexing questions delivered to your inbox every week. Sign up to get our new Explainer newsletter here.