Getty Images / Masterpiece PBS
We're just one episode in the new season of Victoria, and the show has already featured Princess Feodora, Queen Victoria's half-sister, as a possible villain.
There are some historical facts to back up the plot. Victoria actually had a half-sister named Feodora and they grew up together at Kensington Palace. But the real story of the couple's relationship is very different – and much happier – than the one presented on screen.
Below is what we know about the real Princess Feodora, Victoria's often forgotten relative.
Feodora and Victoria had the same mother, Princess Victoria of Saxe-Coburg-Saalfeld.
Feodora's father, Emich Carl, Prince of Leiningen, died when she was six years old. Her mother married Queen Victoria's father, the Duke of Kent, and the family immediately moved from Germany to England so that the future Queen could be born on British soil.
The sisters enjoyed each other's company during their childhood at Kensington Palace.
Victoria and Feodora had a relatively isolated childhood in the palace, and that seems to have brought them closer together. Twelve years older than Victoria, Feodora was also a role model for the young king. However, their time together ended when Feodora Ernst I, Prince of Hohenlohe-Langenburg, married and moved to Germany.
As historian Helen Rappaport told Town & Country, "Victoria was heartbroken when she was sent to Germany because she was so lonely at Kensington Palace." The Royal Collection Trust cites Victoria's own writings on the subject, in which she said she missed Feodora, "for she came to my room very often during the day, and very often sat in my room writing her letters … and she was always like that happy and happy. "
They had a lifelong correspondence, although politics occasionally got in the way of their friendship.
Rappaport notes that their relationship "was a bit up and down, especially when they were on opposite political sides during the Schleswig-Holstein Crisis of 1863 and the Franco-German War of 1870-1." Yet "they grew closer after Feodora was widowed in 1860 and Victoria the following year, so much so that Victoria implored Feodora to live with her in England."
Rappoport further stated that "Feodora strongly opposed the invitation because she could not bear the all-consuming grief of her sister and found it oppressive."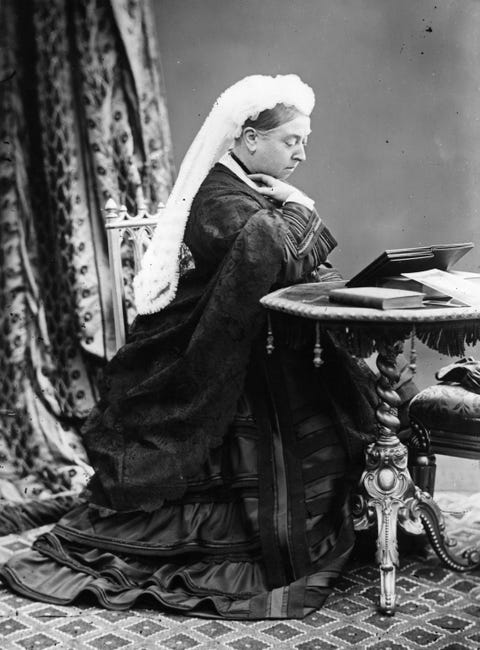 Queen Victoria at her desk in 1878.
W. and D. DowneyGetty Images
Feodora never fled Germany due to unrest at home.
The scenario that Victoria paints, in which Feodora appears in search of refuge in the palace, never took place. According to Rappaport, however, it could not have been ruled out that Feodora might have been in danger, as "Victoria was very concerned for her safety during the upheavals of 1848 in Europe".
There may be some truth in Feodora's jealousy of Victoria, as portrayed in the TV series.
Of course, when your half-sister is queen, it's hard not to feel envious of her wealth and power – and Feodora's financial situation has not always been ideal. "She may have been jealous of Victoria's economic security and convenience," said Rappaport. "1848 had put her and her husband in financial trouble and always lacked money and credit from Victoria."
Our favorite books on Queen Victoria
This content is created and maintained by a third party and imported onto this page to help users provide their email addresses. You may find more information on this and similar content at piano.io